I don't know about you but at about this time a year when lecturers begin to talk about final exams, essays and general deadlines my mind starts to wonder about possible summer adventures.
Each summer is special and a lot of us have our fondest memories from those months that our school/college/university give us off. It is sad to think that this year is going to be my last as next year I will finally be exiting the education system and having to enter the real world in some way. A
lthough I want to move to London and do a Masters in magazine journalism I still feel that this is semi entering adulthood.
So with this in mind I do not want to waste a single day this year, and so here
is my wish list as to how I want to spend my final summer;
Edinburgh
I feel like Scotland is so close to home yet I have never really explored this neighboring country. So this summer it is my aim to visit their capital and see what this beautiful city has to offer. I hope to purchase some tartan clothes and eat a deep fried mars bar.
St. Ives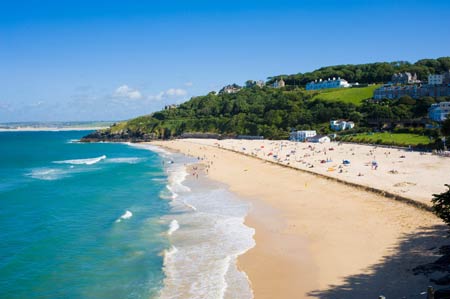 I have never seen a picture where St.Ives doesn't look beautiful so me and my sister have agreed to go on a bonding weekend to this seaside location and see what this Cornish town really has to offer. Hopefully the weather will be sunny so we can get our bikinis on and dip in the sea, but we all know English weather can be very temperamental.

Tomorrowland
This is the headline act of my summer. Tomorrowland is a dance music festival held in Boom, Belgium and attracts ravers in their thousands looking to have an incredible weekend. Tickets for this festival sell out incredibly fast and I feel very privileged
that I am going to get the chance to go. My housemate Mary has been before and does not stop talking about how incredible it is which only works to fuel my excitement further! Mary did a blog post preparing us Tomorrowland virgins for our first time; you can view it
here
. Mary is moving to Spain this summer (not jealous at all) as her parents are opening a rib shack, so a pit stop in Maga before the festival madness begins is also on the cards.

Florence
One of my best friends Megan (the one who lives in Abergavenny and I wrote about in this post) is spending a month as an au pair in Italy, and we have discussed me meeting her afterwards for a week or two to explore more of Italy including Florence. If I go I plan on wearing this t-shirt that I have just recently ordered. P.S This website is a fab one with all sorts of great slogan t-shirts for those dress down days.
Royal Ascot
Horse racing and gambling may be what it's about for some people, but for me it's dresses, big hats and glamour. Royal Ascot is taking place between the 17th and 21st of June this year and tickets are available
here
.

Colour Festival
The traditional Hindu festival is now an upcoming trend for everyone to get involved in. It is coming to Cardiff on June 14th and I want to be in the midst of this colourful celebration. If you're also interested in attending get your tickets here, with Annie Mac and Golden boy headlining you'd be silly not to!
London
N
o summer is complete without a trip to our capital, this year I hope to sunbathe in Hyde Park with a big ice-cream, have a glass of champagne at the top of The Shard and possibly catch a show a West End show which is always a treat. Oh and can't forget a little retail therapy, especially when Britan's largest fashion store lives on Regent Street and it's none other than Topshop. You could seriously get lost in that thing!
Since becoming addicted to the blogging world and seeing all the wonderful things that you all get up to its inspired me to want to get out there and do it too! For this reason m
y list is pretty extensive, but it's okay to dream right?
What are your dreams for the summer of 2014?