There are three different times when calories do not count these are; number one your birthday, number two the entire Christmas season and finally the one that occurs the most regular for the majority of us... when you are drunk. When you've had a bottle of rose, a swift few pints, or a couple of vodka doubles or whatever your drink of choice is on a night out calories become a myth. Fact. You are free to feast on whatever it is that you may desire. Carbs? what are they? Grease? the more the better. Large? Of course.
I don't know if I'm the only one who's a drunk foodaholic, but after exiting a club I rarely go straight home, my local fast food place needs a quick visit before I can even think about returning. I feel like visiting the take away shop is a continuation of my night out and an important part of it. Channel 4 practically made a show about drunk people in a chip shop: Fried Chicken Shop. If you haven't watched it yet get on 4od now! I found it very entertaining to watch and it's even more entertaining to be there in the midst of it. I am going to run through my favourite places to go and purchase the best, most fattening food after a night out in the 'diff:
Family fish bar has to be Cathay's favourite chip shop, it would be hard to find a student who has never visited. My housemate has become such a regular that they are now on first name terms and if I go along with him the chances are I'm going to get a free scallop or "potato fritter", the name is dependant on which part of the country you come from. For me though a battered sausage and small chips is the ideal post night out meal. The great thing about family fish bar is their perception of a small portion seems to be a little distorted and it's actually enough to feed my entire ten bedroom house (well maybe that's a little bit of an exaggeration but they are big).
It is often the case that I suddenly feel really generous in these food places and purchase food for every man and his dog, although these gestures don't always go to plan. One time I decided an entire chicken was the right way to go, so after stumbling home with my family fish bar present, I placed it on the table only for a friend to throw up at the sight of a chicken on a bone (a phobia we did not realise she had).
My connection with Family fish bar has become so strong that when they were closed one night I decided the best thing to do was find their number on google and leave them an answer message asking why they were closed and enquiring as to whether it would be possible to open up and make me a battered sausage and chips? Unfortunately this attempt failed.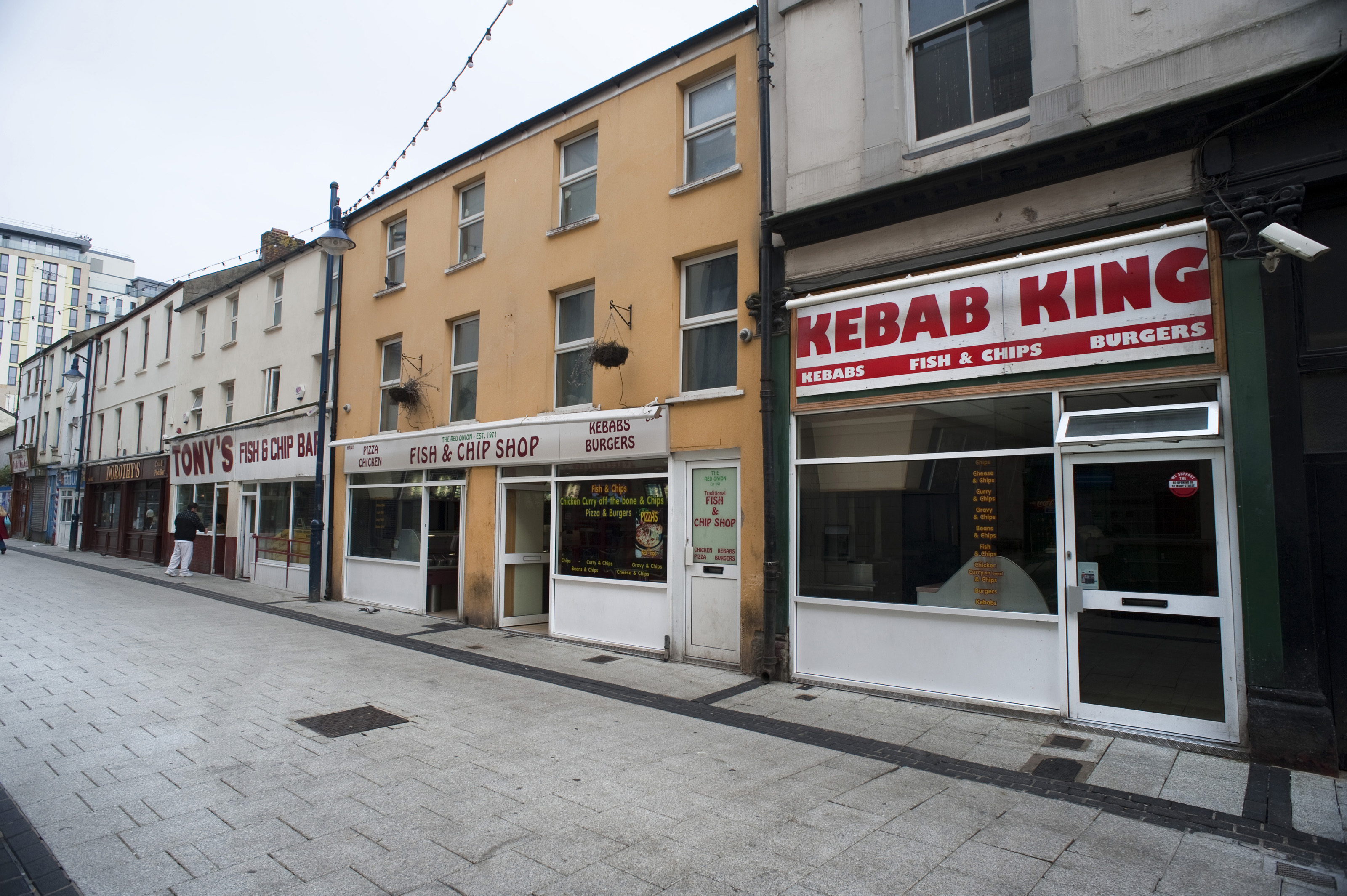 Caroline Street otherwise known as Chippy Alley by students and locals alike is situated in the centre of the town, in the middle of the clubbing district...ideal. It was awarded it's name due to the large amount of fast food places that call this street their home. Gregg's is the only chain shop on this street, all the rest are individual non commercialised welsh food joints. I think most people will agree this is very refreshing. In Gavin and Stacey Nessa describes a perfect night out ending in "a curry and fight down Caroline Street" and she pretty much nails the ambiance of the street... you come down here for one of two things food or a fight. I know which one I perfer!
I remember my first experience of Chippy alley, I was taken back by the amount of choice on offer, after much deliberation between our group we decided on Dorothy's, the longest standing food shop on the street. After looking through the menu and being torn between the cheeseburgers, fish and other battered delights I finally decided to ask for a "Birmingham style kebab" (as I was feeling a little homesick), in which he replied I will get you an "extra large". He most definitely knew his stuff. I delved into this delicious meal which combined bread, kebab meat and salad (so it's healthy right?) while my two friends demanded to see his manager as they were so delighted with the service provided by the young man that they believed he was worthy of a promotion and a pay rise. We then exited the chip shop and my housemate offered her chips to a homeless man outside at which he refused claiming he was already full demonstrating the amount of food anyone can pick up in this amazing street.
Chippy Alley is not just a great place for food but it's also a great place to pick up people for after parties, that I always believe I'm throwing but they rarely go ahead. This could be the place to mingle, it is rumoured Charlotte Church met Gavin Henson on this very street!
I think it would be hard to find someone who has never had a deep McDonald's craving after a night out. When I was a fresher living in Talybont me and my flat realised that we just couldn't go to bed without a large Big Mac so we made the small trek up to McDonald's. They refused to serve us as it was only drive thru after 11pm. We were disheartened and sad but it didn't matter because we had a plan. We got in our invisible car and attempted to make it as realistic as possible and we "drove" round to the first window, the woman behind it was the one who had refused us five minutes earlier. With complete confidence we began our order, we waited with bated breath for her response. Sadly, she saw through our car and we were left to go home empty handed.
Another night out I politely asked Burger King for 20 free chicken nuggets after my milkshake was unsatisfactory, this was also unsurprisingly a fail. Rules appear not to deter me in my late night conquests for food.
I'm going to go out there and say it, drunk food is a vital part of any night out. Food just tastes that much better drunk doesn't it? Sadly after a night out there is always a morning after, but please don't feel guilty for your drunken pursuit of food, you've already got a hangover to deal with. Instead take my advice and head down to cafe 37 and order the breakfast that promises to cure your hangover, cleverly called the "hangover cure" breakfast. Enjoy!
*This was originally published in Quench food and drink section.